In the early morning of January 4, Beijing time, in the 14th round of the Bundesliga, Bayern defeated Mainz 5-2 after falling behind by two goals. Behind the result of the victory, Bayern lost the ball again and suffered 2 goals. The helpless fact of backwardness.
In the first half of the game, Bayern was first scored single-handed by Mainz forward Burkat, and then the opponent defender Huck scored a header. This was also the first goal of Bayern's eighth consecutive game. It was a sighing defensive problem. After a winter break, there is still no relief. In addition to these two goals, Mainz also hit the goal frame twice in the game. Neuer also saved single-handed shots and shots close at hand in the game. It can be said that without Neuer and the door frame to rescue the danger, Bayern will have time to exert its strength in the future, and I am afraid that it will be bloodbathed by Mainz, who is ranked second.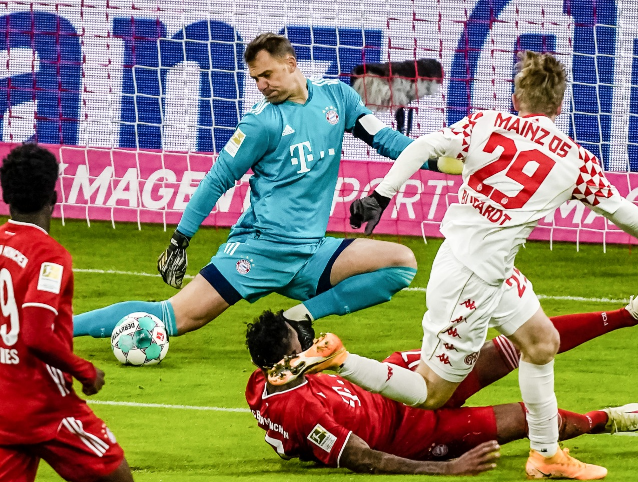 In addition, Bayern entered the halftime with a 0-2 score in the first half. This is the first time they have fallen behind by 2 goals in the first half of a Bundesliga game in the past two years. The last time a similar situation occurred in October 2018, when they finally lost to Menschön with a score of 0-3.
The last time Bayern kept a clean sheet in the league dates back to the fifth round of the Bundesliga on October 24, when they beat Frankfurt 5-0. But in the following 9 rounds, Bayern allowed their opponents to score, and in the last 8 rounds, they allowed their opponents to score first. But in this consecutive game of losing goals, Bayern relied on offense to achieve 6 wins and 3 draws unbeaten. Obviously, the team's offensive firepower is too strong to cover up Bayern's defensive end problems, and how to adjust the defense is also a major issue that Flick needs to pay attention to.